Bliss is a PlumePuffy Girl along with her sisters 
Bumblebee
and
Blade
.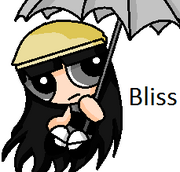 Personality
Edit
Nobody will ever know why Bliss's is name 'Bliss'. She is a greater tomboy than buttercup and she likes to be with blade a lot because they are good mates. She wears her yellow hat and h.
Super strength
Night vision
Mega dragon monster
Fire breath
Cherry Bomb
Ability to bring people back to life
Ad blocker interference detected!
Wikia is a free-to-use site that makes money from advertising. We have a modified experience for viewers using ad blockers

Wikia is not accessible if you've made further modifications. Remove the custom ad blocker rule(s) and the page will load as expected.